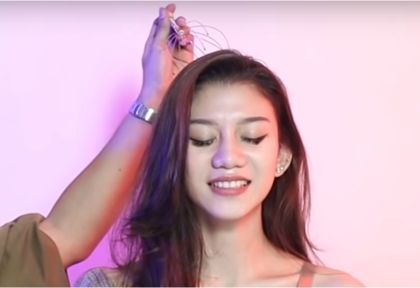 Bokoma is a head massager to remove the muscle tension and tiredness and improve the blood circulation by massaging head or points on body
The relaxing and tingling effect transcends from the head to lower limbs ad extremities creating a holistic sensation. the good thing of this Bokoma head massager is this thing doesn't required any battery. you can use it whenever and wherever you want.
there are some benefit of head massage :

1. PROMOTE HAIR GROW
In national library of medicine, the participants experienced an increase in hair thickness after 24 weeks of daily scalp massage.
if your hair is thinning or not as thick as it used to be, you may want to consider a scalp massage with this bokoma head massager

2. LOWERS BLOOD PRESSURE
In national library of medicine, they found that 15-20 Minutes of scalp massage could decrease systolic and diastolic blood pressure in female participants
the author of the study believe this may be because a head massage can help promote blood circulation which has a positive effect on relaxation of blood vessels and neck muscles.

3. REDUCES TENSION HEAD SYMTOMPS
A tension headache commonly causes pain in your head and neck and behind your eyes. Muscle contractions often trigger these types of headaches.
The American Massage Therapy Association reports that a scalp massage may help reduce the intensity, duration, and frequency of tension headaches. This may be due to the relaxing effect a head massage has on the muscles in your neck.