Say yes for a weekend getaway !.
Just a short boat ride from Singapore only takes around 35mins, Batam's the most popular destination and a good side trip from Singapore and Malaysia. Apart from its close proximity to Singapore, this small island is frequented by visitors because of its wonderful beaches, elegant resorts, big shopping malls and pampered massage center !
The best is prepare you to do list for a pleasant trips, Let us tell you more about undiscovered things to do in batam & why Batam is the best destination to go in batam ?
I'st time to plan your itinerary you'll realize there are so many things to do in Batam with very best deals & budgets.
No matter where you end spending your time in Batam you'll have an amazing time. We've put together this list of the top reason why must batam :
1. BEST DEALS - ACCOMODATION (Top Resorts, Villas, Hotels)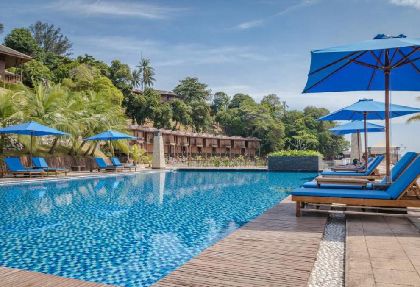 Batam is the most recommended places to go while you planning to get a short dates of holiday, Don't know where to stay when in Batam ? No worries , start from as low as $25 you can get an affordable & 3 stars hotel & villas stay.
The most popular resort are suitable for travelling budget , KTM Resort located in Tanjung Pinggir , Sekupang.
Give yourself enough time to appreciate the beauty of the surroundings. Take a stroll or an OOTD along these beautiful landscapes of KTM resort.
Address: Jalan Kolonel Soegiono, Tj. Pinggir, Kec. Sekupang, Kota Batam, Kepulauan Riau 29432
Opening hours: 24 hours
Telephone: +62 778 323700
2. SUPER RELAXING & SOOTHING MASSAGE EXPERIENCE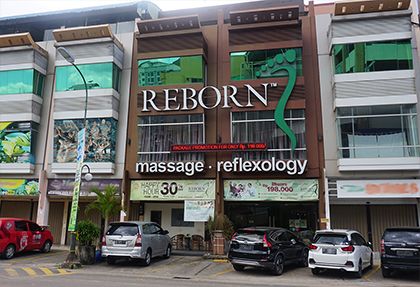 Batam is a city that is perfect for relaxation of Singaporeans who are tired of working for a full week. Not only because of its proximity, but also because many facilities that can be used to unwind and relax at a low price for Singaporean.
After a day of fun-filled activities in Batam, what your body really needs is nothing but two solid hours of massage. Yes, over at REBORN Massage and Reflexology, a soothing full body massage awaits you.
My favourite part of the massage was when the experienced therapist placed a hot towel on the back of my neck towards the end of the session. So warm and cosy, it melted my worries into thin air.
Book now on their official website : http://rebornbatam.com

Reborn Massage & Reflexology
1st Branch :
Address :Ruko Nagoya Hill Superblock R3 No.I6-I7Batam, Indonesia
Phone : +62778 749 3655
Open daily from 10:00 AM to 11:00 PM
2nd Branch :
Address : Ruko Penuin Center Blok R-1 (Opposite BCS Mall)Batam, Indonesia
Phone : +62778 429432
Open daily from 10:00 AM to 11:00 PM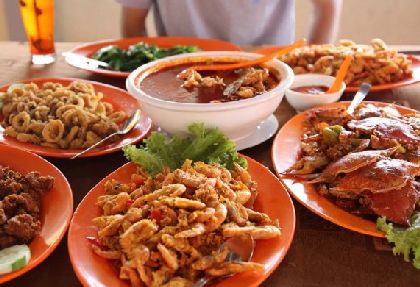 Take a journey to the ocean shores, where the aroma of fresh seafood and vegetables fills the air. Relaxing weekend get-togethers are the perfect time for a seafood feast. Batam is a short hour-long ferry ride from Singapore, and other than sandy beaches and watersports activities, it's also home to a variety of seafood restaurants with fresh fish, crab, and shellfish. You can opt to dine at the many kelongs available, or in an air-conditioned space restaurant with a views of the sea. But whichever you choose, you can be sure that you'll be paying less for your meal than in Singapore.
Love seafood Batam always the best choices , The popular Love Seafood have 2 locations. A Kelong at Tanjung Piayu as well as a restaurant in Batam Center. In all likelihood they probably serve more seafood to more people than any other place in Batam.
Address: Jalan Raja H Fisabillilah Batam, Riau, Indonesia 29432
Opening hours: Daily: 9.30AM-10.30PM
Telephone: +62 823 6111 8881
4. SHOPPING PARADISE – LOCAL SOUVENIR & SNACK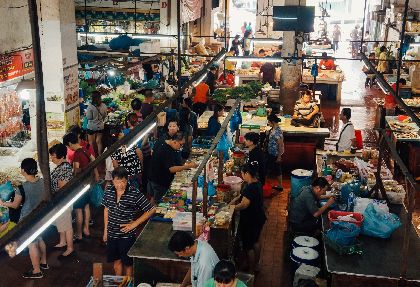 At Pasar Penuin, you can buy lots of products from textiles, clothing, accessories, local snacks (such as Kue lapis,Kerupuk),dry shrimp,Ikan Billis & Spices - herbs.
This market is like a complex and quite spacious so you can walk comfortably.
This market has now become one of the icon of shopping paradise in Batam which is very popular for tourists who want to buy batik products also. Not only that, here you can also shop meat & fresh seafood.
Address : Pasar Penuin Batam
Opening hours: Daily: 05.00AM – 06.00PM
5. UNBLOCK THE SUN – EXCITING WATER ACTIVITIES IN BATAM
Batam has quickly become the best and most popular place to enjoy water sports at a reasonable price. Do you want to play in a waterpark that is floating right on the sea like this one?
This is part of Sea Forest Adventure, a special themed recreational spot where you can unleash your inner child. And this floating waterpark is Water World, located just around 100 meters away from the Palm Spring beach. You can bounce, climb, slide and roam around this lovely playground for adults and kids alike!
There are many mores exciting water sports & activities in Sea Forest adventures , Explore their website : https://www.seaforestadventure.com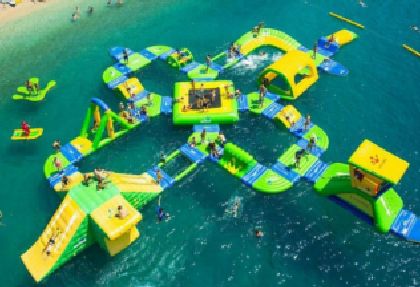 Address: Jl. Hang Lekiu, Nongsa – Batam, Riau, Indonesia 29465
Getting there: After you reach Sea Forest Adventure, there are 3 ways to get to the waterpark. 1) By boat – 5 minutes, 2) By buggy – 10 minutes, 3) By foot – walk along the hill on the right side of the beach – 15 minutes